Gown Rentals for Confirmations
Here at DLA Cleaners, we rent out Gowns for Confirmations. The Gown  is full length and is cream in colour. The Stole comes in a variety of different colours to suit your child's school, Royal Blue Stole, Red Stole, Green Stole, Brown Stole and Navy Stole.
Why Rent a Confirmation Gown? 
Renting a confirmation gown is less stressful and cheaper for parents then purchasing clothes that conform to confirmation standards. This also allows the children to wear clothes they feel more comfortable in and happier wearing. This option is also cheaper than School Uniforms as most parents will have to buy a brand new Uniform just for the day or spend money on repairing the uniform.
The Colour of the stole can be the same colour as the school uniform and if more than one school is making there confirmation in the one church, the different colour stoles will help distinguish the different schools from one another.
Each gown is supplied to the exact length that the confirmation pupil requires – the gown will be supplied to come to their shoes
To order a gown simply send us an email using the form below with the selected colour and measurements included in your message.
Royal Blue Stole
Red Stole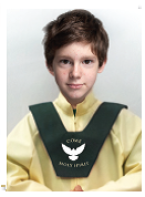 Green Stole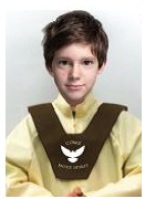 Brown Stole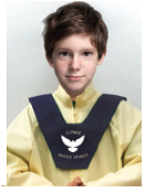 Navy Stole